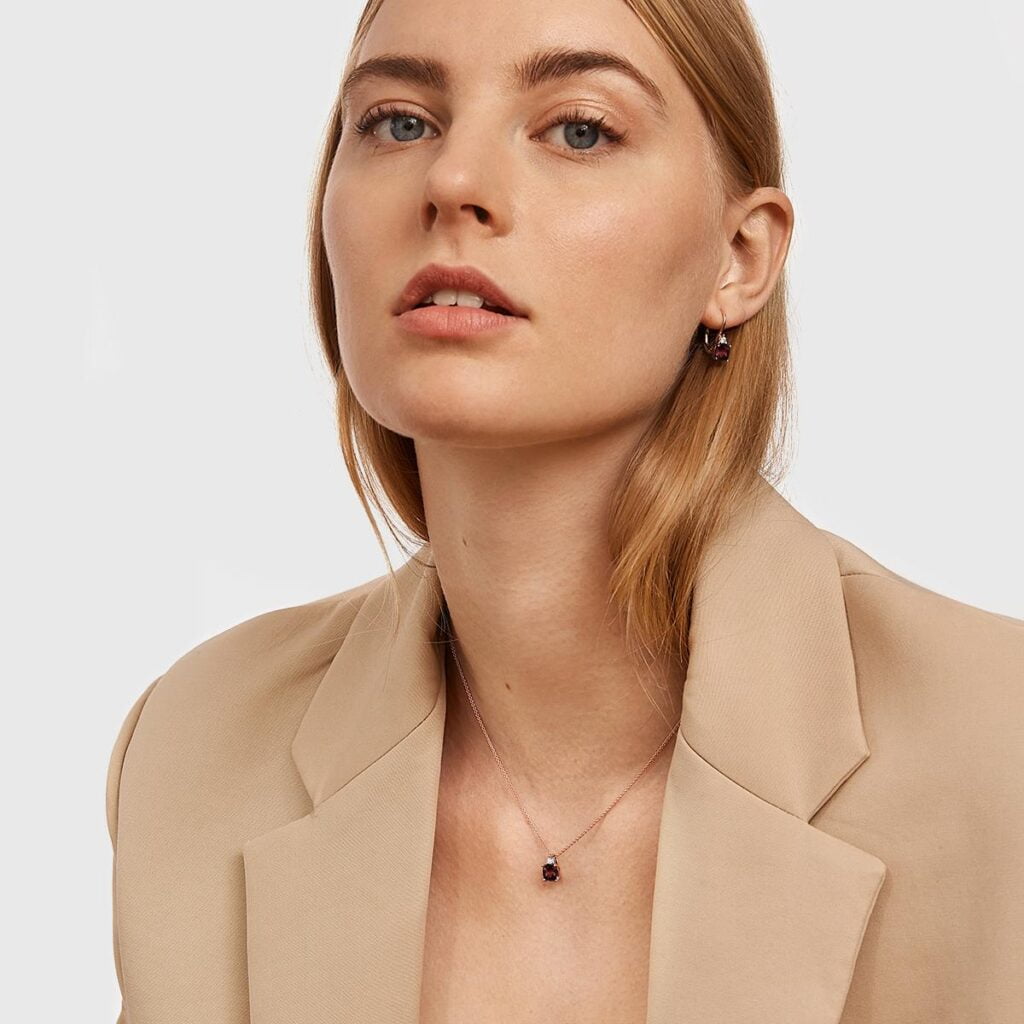 We most often associate this gemstone whose name refers to the tiny seeds of a pomegranate with dark shades of red. But in fact, the color spectrum of garnets is incredibly broad. This admirable stone which captivated the ancient world was worn by the aristocracy in the Victorian era and is now being rediscovered with enthusiasm by contemporary jewelers. It is undoubtedly worthy of your attention.
Garnets as a symbol of love
In earlier times, magical powers used to be attributed to garnets. The deep red color of some varieties of garnets was probably the reason why they were associated with love, passion and life energy. Garnet jewelry makes an ideal gift for many different occasions. First and foremost, it is associated with the month of January. This means that it will be an excellent accessory especially for those born in this month. According to astrology, it will also benefit those born in the sign of Leo. Another tradition is that of giving garnets on the second wedding anniversary. And of course, garnets also shine on other occasions such as for instance graduation or the birth of a child.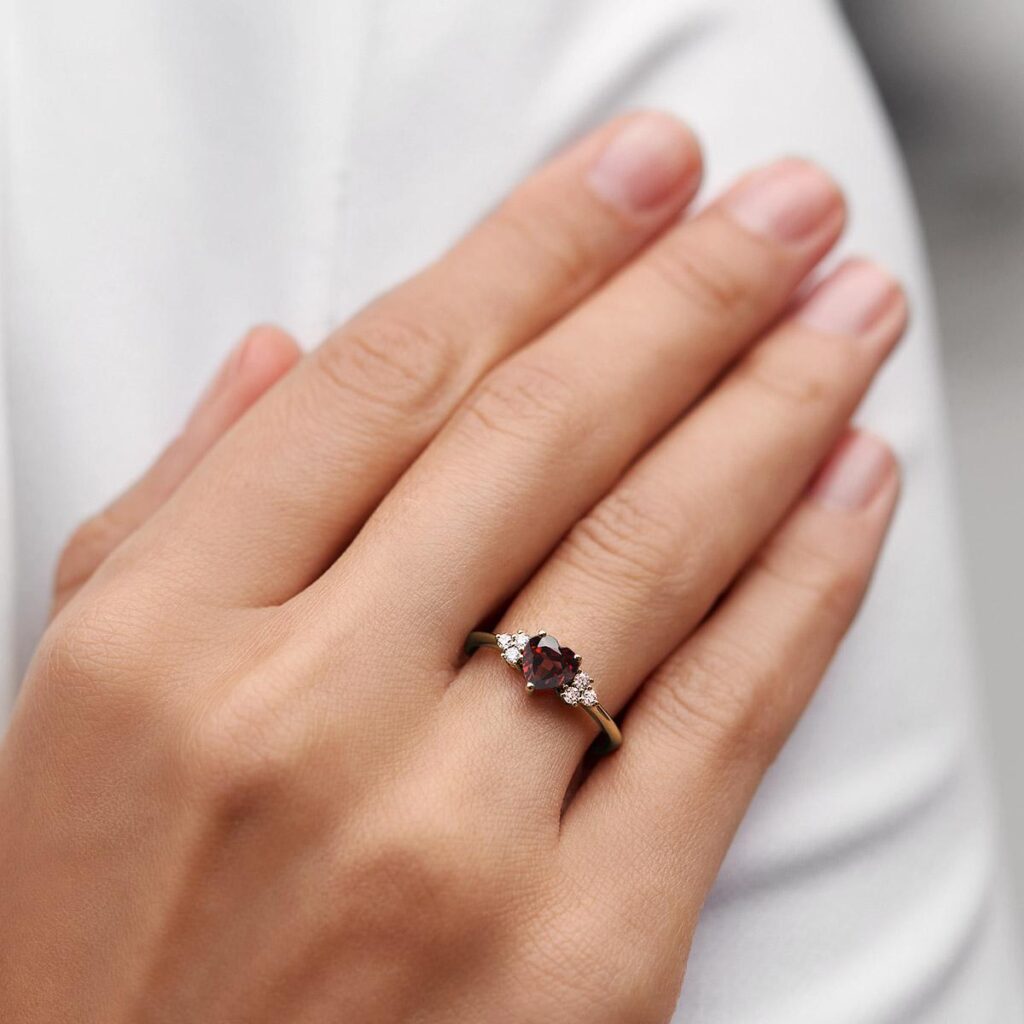 The broad color range of garnets
Garnets impress with the wide range of colors that they naturally occur in. Within the umbrella term garnet, there is a large group of minerals that have the same atomic and crystal structure but which are different in their chemical composition. All of these however have one thing in common. They have beautiful, rich colors that catch the eye at first sight. Among the most famous are red-brown pyropes which are also known as Czech garnets, red almandines with purple undertones and raspberry-colored rhodolites, which are considered the most noble of the garnet family. The deep green tsavorites which impress with their original color and which can also be seen as an alternative to the much more expensive emeralds, don't lag behind in attractiveness either. You'll see these less common varieties of garnet set into jewelry more and more frequently.
On top of their intense colors, garnets have other benefits too. These include a relatively high hardness which makes them very durable. Garnets will therefore retain their beauty for many years even when worn every day. They are resistant to minor scratches and their luster won't fade. If you prefer natural stones that have not undergone any additional color treatments, then garnets will also win you over – just like bespoke engagement rings. They are one of the few gemstones that do not undergo color treatments.
Modern garnet jewelry
The distinctive colors of garnets make them destined to shine in delicate jewelry with minimalist designs. They stand out the best in simple settings. If you are hesitant about which color of metal will suit garnets the best, then trust us that both warm yellow as well as elegant white gold will suit them. A special combination that also looks very feminine is red-pink rhodolite with rose gold. You'll find it for instance on this romantic necklace with a heart-shaped garnet.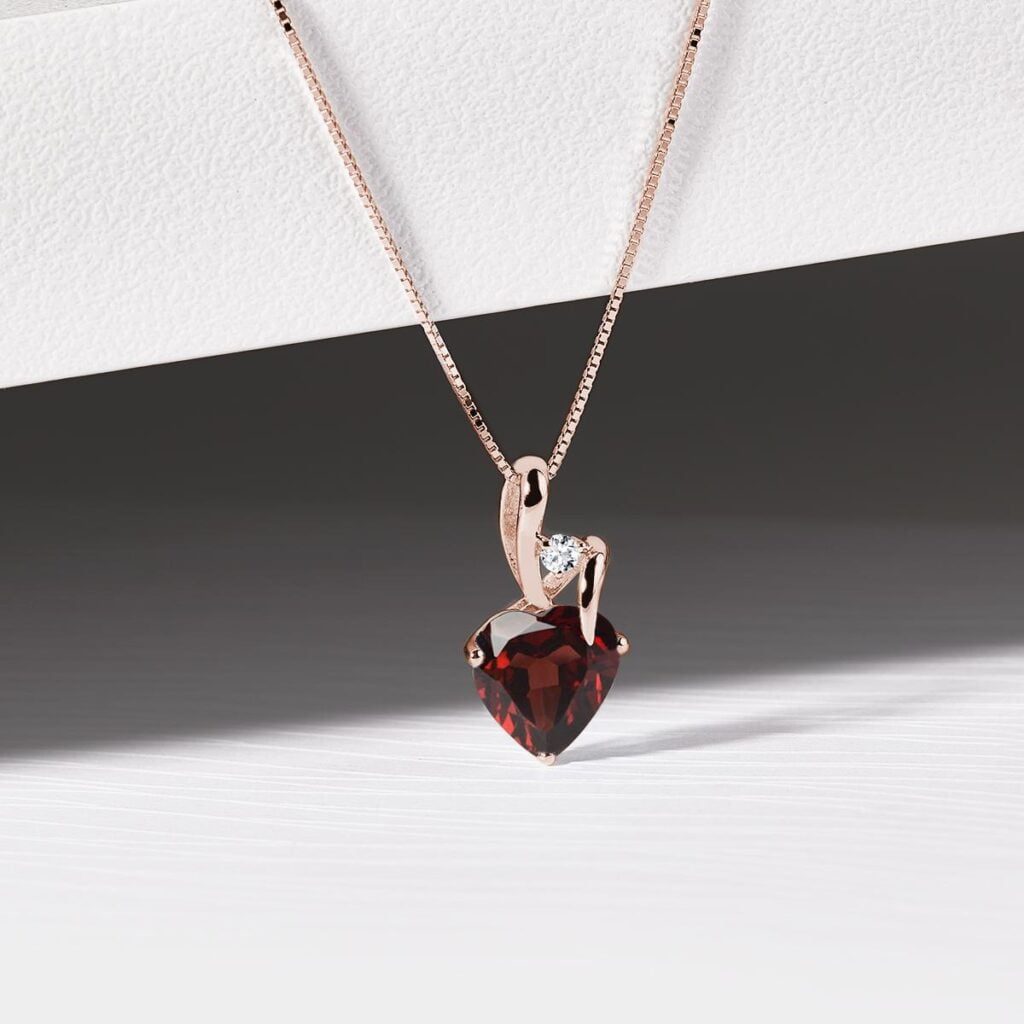 In addition to gold, garnets also go well with sparkling diamonds which enhance their luster. And if you're looking for timeless yet distinctive jewelry for everyday wear, you won't go wrong with garnet earrings with diamonds while garnet rings with diamonds in a halo design are also impressive and can be an unconventional choice for an engagement ring.