Many people are reluctant to buy second-hand clothes, fearing they aren't authentic and will fall apart after the first wash. However, you can find some amazing authentic clothes on resale websites, including high-end brands like Chanel, Gucci, Louis Vuitton, and more.
You never know what you'll find in a store that accepts consignment items – or even at your local flea market. But it's worth a try. Whether you're looking for designer clothing, special-occasion dresses, or everyday styles, it's easy to find second-hand clothes that look as good as new—and often at bargain prices.
Shopping used to mean going to rummage sales and thrift stores alone, but thanks to the Internet, it now can also mean shopping online.
If you're concerned about quality and authenticity, keep reading; we've compiled ten ways to find second-hand authentic brand clothes that are in mint condition and won't cost you an arm and a leg. This list also includes some online options, so check them out too!
1. Thorough Research
When it comes to shopping, nothing's more fun than finding a great deal on branded clothes. However, with all the second-hand shopping options available in every city and store, how do you make sure you're buying authentic names?
The simple answer is research; after all, if you don't know where your clothing was made or what materials were used to create it, how can you be sure you aren't buying knockoffs?
2. Read the Reviews
If you don't have time to read a full review of the seller, scroll through the reviews and look for any major red flags, such as feedback on their customer service or negative comments about their shipping times.
You can also use reviews to check for patterns in quality control; are customers saying that pieces are not true to size or color? If so, consider looking elsewhere. When reading reviews, make sure to read between the lines and consider how they could help you find the perfect piece of clothing at an unbeatable price.
3. Online Marketplace
One of the biggest sources for authentic brand clothing is online marketplaces. Some brands, like Nike, even have a dedicated site where you can find second-hand items in their product line.
eBay is also a good option for finding used designer clothes and accessories. However, if you're looking for something specific, like designer jeans, your best bet is eBay or Craigslist.
Both sites will allow you to search by brand name, so all you need to do is input what you're looking for into the search bar. You may also want to consider joining their mailing list, as many brands offer special discounts just for members.
Many sites make it easy to shop using search parameters so you can find what you're looking for based on color, size, or the designer you want it from. There's no need to spend more than you need when there are plenty of second-hand options out there.
4. Check Out Thrift Stores
Hit up your local thrift store for a plethora of chic secondhand clothing. While finding second-hand authentic brand clothes in thrift stores can be difficult, you may be lucky enough for your desired item to pop up.
The selection is slim, and you'll have to search around and deal with the potential of other shoppers picking over what's left. The best time to go is early in the morning because you'll have the whole day to sift through racks, stacks, and bins of garments.
If you're determined, though, there are deals that you can find. And if not, there are plenty of other shops that cater more specifically to this market. Be sure to ask an employee if they have any hidden gems that might be on a higher level or under their counter so you can get first dibs.
5. Don't Ignore Consignment Shops
Consignment shops often have a wide variety of second-hand authentic brand clothes, which is perfect for the fashionista who doesn't want to pay full price. The downside of consignment shops is that they might not have clothes in the size you're looking for.
However, if you're lucky, you'll find a wide range of sizes and styles on the rack, as well as everything from handbags and shoes to jewelry, hats, and sunglasses.
6. Go To Swap Meets
The resale market isn't the only place you can find second-hand authentic brand clothes. There are a few swap meets around the country that specialize in bringing together sellers and buyers of new and used items.
You'll have to keep your eyes peeled for these events because they're not as common as garage sales, but they're worth looking out for.
It is important to be careful when going for swap meets though and verify the identity of whoever you are meeting there on Nuwber.
7. Attend Garage Sales
You can find second-hand authentic brand clothes at garage sales, and it's often pretty easy because people who don't want what they have anymore will sell it for a cheaper price.
Garage sales are popular in neighborhoods on Saturdays, but you can find some on weekdays too. Usually, garage sales start as early as 7 a.m., and you should go during the day if you want to find the best stuff.
8. Visit Flea Markets
If you're looking for a bargain, it doesn't get much better than flea markets. The turnover of vendors at these events is high, and there's likely to be something on the table you want. Plus, if you're clever about your hunt, it won't take long to find second-hand authentic brand clothes or at least the style of clothing you want.
9. Show Up At Pop-Up Shop Events
Can you find second-hand authentic brand clothes at pop-up shop events? It can be tricky, but it's possible if you know where to look and what you're looking for. Keep in mind that vintage clothing stores can be hit or miss. Some of them are complete junk piles, and some of them are gold mines.
The best way to determine the best deal is by looking around the store before buying anything. We recommend walking through a few stalls first and seeing if anything catches your eye before trying on any clothes.
10. Check the Details
Avoid repackaged or altered clothes that were never meant to be sold in the first place. When buying at a vintage or thrift store, take your time and check that tags are not missing, ripped, tampered with, or have ink smudges.
Take measurements to ensure you know your size (don't rely on size charts). Finally, ask if they have a return policy before purchasing anything because most vintage shops do not.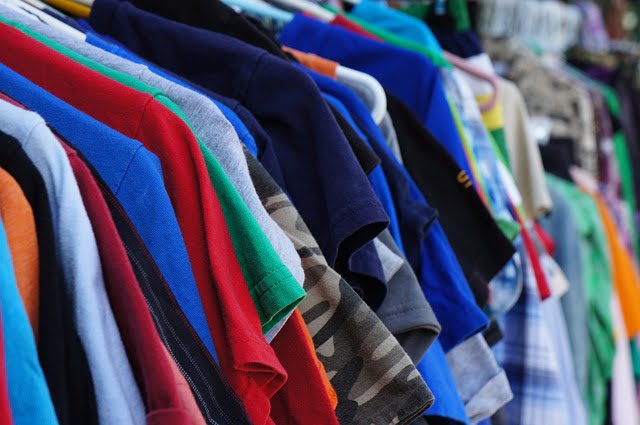 Wrapping Up
There are a lot of ways in which you can find second-hand authentic brand clothes. For example, you can ask around, go through local fashion magazines or blogs, search for them on eBay, and even find a few at the thrift store.
Keep in mind that buying secondhand clothes is about more than just saving money; it's about reusing items and buying ethically sourced things. So, the next time you want to buy an expensive brand item, think about whether it's worth it to spend your money on a new one.
By following these tips, you'll be able to find secondhand authentic brand clothes.