A bathroom is no longer just a functional space – it's a sanctuary of relaxation and indulgence. Luxury bathroom remodeling is all about transforming your bathroom into a spa-like retreat that pampers your senses and reflects your refined taste. Among the expensive fixtures and accessories, the biggest investment in bath remodels is the material you choose. 
Upgrading to luxurious materials will add a welcoming touch and increase the value of your home. From opulent fixtures to premium materials, the world of high-end bathroom upgrades offers a realm of possibilities to create a space that exudes elegance, comfort, and sophistication. In this guide, we'll explore the art of luxury bathroom remodeling and provide insights into how you can elevate your space with a touch of grandeur and style.
Opulent Fixtures: The Jewels of Your Bathroom
Luxury begins with the fixtures you choose for your bathroom. Consider swapping standard faucets for extravagant ones made from materials like brushed gold, polished nickel, or matte black. Go beyond the basics with statement pieces such as freestanding tub fillers, waterfall faucets, and multi-function shower systems that include rainfall showerheads, body jets, and handheld sprays.
Additionally, high-end bathroom remodeling includes intricate details such as towel bars, robe hooks, and towel rings to give the space a sense of luxury. Upgrade your mirrors with ornate frames or opt for an illuminated design for optimal lighting in the morning or evening. These fixtures not only enhance functionality but also serve as focal points that enhance the overall aesthetic.
Sumptuous Surfaces: Embracing Premium Materials
When it comes to luxury, the choice of materials matters. Opt for natural stone surfaces like marble or granite for countertops, floors, and shower walls. The veining and textures of these materials add an unparalleled sense of luxury to your space.
If you prefer a modern touch, consider sleek options like quartzite or engineered stone that offer both beauty and durability. Investing in high-quality materials not only elevates the visual appeal but also ensures longevity.
Spa-Worthy Showers: Transforming Your Shower Experience
Turn your daily shower into a spa-like ritual by incorporating high-end features. Install a spacious walk-in shower with frameless glass doors that exudes openness and sophistication. Consider adding a rainfall showerhead that mimics the sensation of gentle rain, accompanied by body jets that provide a therapeutic massage experience.
Choose luxurious mosaic or large-format tiles for your shower walls, creating a striking backdrop for your personal oasis. Aside from indulging in a tranquil shower, you can further enhance your morning or evening routine with other features such as heated floors, built-in speakers, and aromatherapy.
Soaking in Luxury: Freestanding Bathtubs
Freestanding bathtubs are a hallmark of luxury bathroom design. These sculptural pieces of art add an air of indulgence to your space. Whether you prefer a classic clawfoot tub or a modern pedestal design, freestanding tubs offer a relaxing escape from the world. Imagine sinking into a warm bath surrounded by elegant materials and captivating design – it's a retreat you'll long for at the end of every day.
Ambient Lighting: Setting the Mood
Luxury is all about creating the right ambiance, and lighting plays a significant role in achieving that. Incorporate a combination of ambient, task, and accent lighting to enhance the atmosphere of your bathroom. Consider installing a chandelier or a pendant light as a focal point above your bathtub or in the center of the room.
Adding dimmer switches allows you to adjust the lighting to suit different moods, whether it's a relaxing soak or preparing for a night out. Also, consider installing different types of lighting in your shower such as recessed lights, sconces, and LED strip lights to ensure optimal lighting.
Vanity of Distinction: A Showcase of Elegance
Your vanity is not just a functional element – it's a piece of furniture that sets the tone for your entire bathroom. Opt for a custom-designed vanity with exquisite detailing and high-quality craftsmanship. Consider incorporating double sinks, intricate hardware, and ample storage to keep your space organized and clutter-free.
A luxurious mirror framed in ornate metalwork or a statement-making mirror with integrated lighting adds to the opulence. A lot of thought and meticulous planning goes into creating a vanity of distinction.
Creature Comforts: Heated Floors and Towel Warmers
Luxury is often found in the details that enhance your comfort. Installing heated floors ensures that stepping out of the shower is a cozy experience even on chilly mornings. Towel warmers provide a touch of indulgence, offering you a warm and toasty towel after your bath or shower.
These small touches make a big difference in how you perceive and enjoy your bathroom space. Like fine wine, luxury bathroom remodeling takes time to achieve. Creative planning and a thoughtful selection of materials will create a space that is beautiful, functional, and timeless.
Seamless Technology Integration: Smart and Sophisticated
The world of luxury extends to technology as well. Incorporate smart features like voice-controlled lighting, mirror-integrated displays, and digital shower systems that allow you to customize water temperature and flow. Consider installing built-in speakers that allow you to enjoy your favorite music or podcasts while you pamper yourself. Seamless technology integration enhances convenience and sophistication.
Harmonious Design: A Unified Aesthetic
To achieve a truly luxurious bathroom, ensure that the design is cohesive and harmonious. Select a color palette that reflects your personal style, and carry it through the choice of tiles, fixtures, and accessories. Pay attention to details like hardware finishes, towel colors, and even decorative accents to create a space that feels balanced and well-thought-out.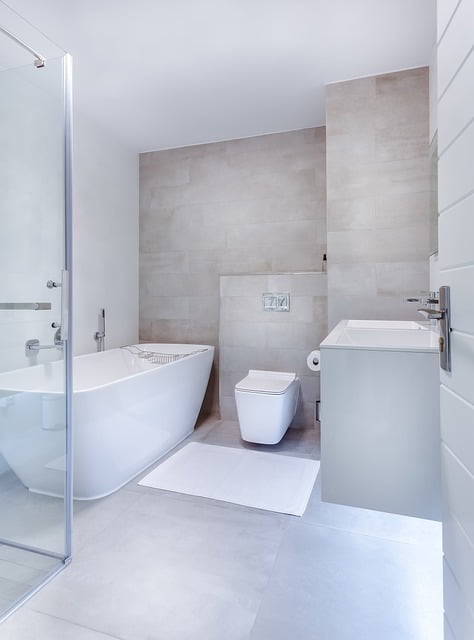 In Conclusion
Luxury bathroom remodeling is an art that combines opulence, comfort, and individuality. By incorporating opulent fixtures, premium materials, spa-worthy features, and personalized accents, you can transform your bathroom into a haven of relaxation and indulgence.
The result is not just a functional space, but a true sanctuary where you can unwind, rejuvenate, and bask in the lap of luxury every day. Embrace the elegance and grandeur that high-end upgrades bring, and turn your bathroom into a space that reflects your refined lifestyle and offers a daily escape to tranquility.