If you want to see your CCTV cameras on your personal computer, gCMOB is one of the leading software options available. This software not only enables monitoring, but it also enables you to control your DVR/NVR or IP cameras if you use the gCMOB application, which is available for Windows and MAC. This software is an effective instrument for managing all of your CCTV devices that are connected to your personal computer. Because this is the authorized software that is distributed by CP Plus, you do not need to be concerned about the legitimacy of the software. You can setup your cameras on your personal computer after downloading the gCMOB for PC.
Security Eye
It is never simple to determine which software is the most effective for security cameras. This is due to the fact that the majority of software that can be found on the internet advertises itself as being free; nevertheless, when you download the software, it will attempt to charge you for it.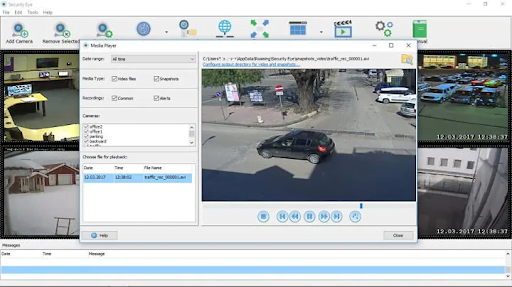 Security Eye is so well regarded because it is a high-quality piece of software that someone decided should be made available for no cost. It's not open source, but the creators think it should be given away for free anyhow because it's useful for security cameras. In 2019, the company abandoned its free version, which provided two hours of surveillance each day before charging a fee. Will they continue doing this, or revert to charging for access? Who knows, but while it's free, you should probably take use of it.
One of its features is a timer that lets you set exactly when the live stream will begin. Compressing captured photos as JPEGs is possible. You can also use a loudspeaker to get notifications from the system. It also functions with gadgets that detect motion.
iVideon
The free iVideon software is an example of a programme that does its intended task well enough that no complaints are warranted. Even if there are a great number of ways in which it could be improved, there is nothing in it that warrants severe criticism. Facial recognition is one of its most advertised capabilities, and it does indeed enable very good mobile usage. You can use either your desktop computer or your mobile device to view live and recorded video. In addition to that, it is downloadable for use on Linux and Mac OS X.
Wrapping it Up!
We hope this post helped you in deciding which is the best alternative to gCMOB. Check the software out and let us know which one got most of your attention.