If you're a lover of beachcombing and searching for unique treasures along the shoreline, Michigan's Great Lakes are a paradise waiting to be discovered. With their pristine sandy beaches and crystal-clear waters, these magnificent bodies of water offer more than just breathtaking views. They have a special talent for turning our trash into beauty, as the motion of the waves smooths and polishes discarded glass, transforming it into beautiful beach glass. In this guide, we'll take you on a journey to explore the seven best beaches in Michigan where you can find these colorful gems.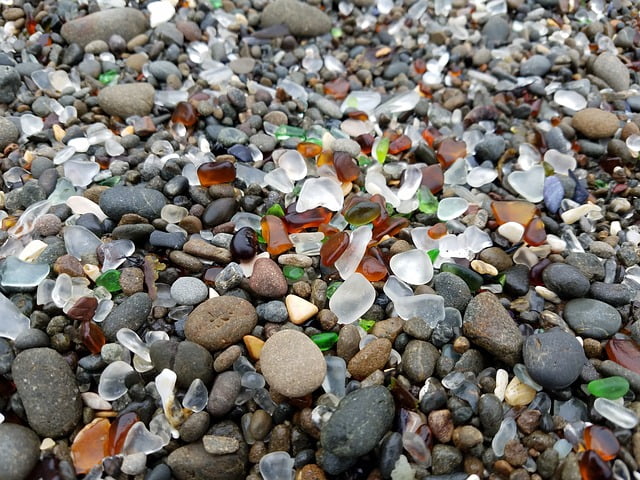 1. Silver Beach – St. Joseph: A Gem on the Southwest Coast
Located in the charming city of St. Joseph, Silver Beach is a popular destination for beach glass enthusiasts. This beach is best explored during spring, winter, and fall, although beach glass can be found year-round. After a powerful storm or when the snow melts, your chances of finding beach glass are even higher. Take a leisurely stroll along the shoreline, keeping an eye out for the glimmer of these polished treasures. The address for Silver Beach is 101 Broad St, St Joseph, MI 49085, USA.
2. Christmas Cove Beach – Northport: A Tranquil Spot for Beach Glass Hunting
For those seeking a more secluded and underrated beach experience, head to Christmas Cove Beach in Northport. This hidden gem on the tip of Leelanau Peninsula offers a peaceful environment for beachcombing. To maximize your chances of finding beach glass, visit during sunrise or sunset when the lower angle of the sun illuminates the glass, making it easier to spot. Embrace the beauty of this beach and take in the stunning views of Grand Traverse Bay. The address for Christmas Cove Beach is East Christmas Cove Road, E Christmas Cove Rd, Leelanau Township, MI 49670, USA.
3. Tunnel Park – Holland: Uncover Beach Glass Treasures along the Shoreline
While Holland State Park attracts many tourists due to its iconic Big Red lighthouse, Tunnel Park offers a quieter and more rewarding beach glass hunting experience. Take a leisurely walk from Tunnel Park to Holland State Park along the shoreline, passing by charming lakefront cottages and collecting beach glass as you go. The scenic beauty of this area enhances the joy of finding these colorful gems. Tunnel Park is located at 66 Lakeshore Dr, Holland, MI 49424, USA.
4. Mackinac Island: A Unique Destination for Beach Glass Enthusiasts
Escape to the enchanting Mackinac Island and embark on a bike ride around the perimeter of the island to discover its rocky beaches. With no cars to worry about, you can easily stop and search for beach glass whenever you spot a promising section of shoreline. Embrace the tranquility and natural beauty of Mackinac Island as you collect these polished treasures. Catch a ferry to Mackinac Island and enjoy the serene shores of Lake Huron. The address for Mackinac Island is Mackinac Island, MI 49757, USA.
5. Bayfront Park – Petoskey: Where Beach Glass and Petoskey Stones Await
Petoskey, known for its unique Petoskey stones, is also a fantastic destination for beach glass hunting. Focus your search on sections of pebbles along the shore, as beach glass tends to get caught in these areas. Bayfront Park in Petoskey offers a perfect blend of beauty and opportunity to find these treasures. Enjoy the stunning views and immerse yourself in the charm of this lovely town. Bayfront Park is located at 101 E Lake St, Petoskey, MI 49770, USA.
6. Warren Dune State Park – Sawyer: A Colorful Haven for Beach Glass Seekers
Warren Dune State Park in Sawyer is a vibrant beach destination known for its abundance of beach glass in all colors of the rainbow. This park is part of Harbor Country in Southwest Michigan, and it's a treasure trove for beachcombers. Cherry Beach and Weko Beach, situated nearby, are also worth exploring for their bountiful beach glass. Immerse yourself in the natural beauty of this area as you collect these colorful gems. Warren Dunes State Park is located at 12032 Red Arrow Hwy, Sawyer, MI 49125, USA.
7. Lakeport State Park – Lakeport: Uncover Pastel Beach Glass on the East Coast
While most of the notable beach glass spots are on the west side of Michigan, Lakeport State Park offers a hidden gem on the east side of the state. Take a serene stroll along the shores of Lake Huron and discover an array of pastel beach glass waiting to be collected. The tranquil ambiance of Lakeport State Park provides the perfect setting for a peaceful beachcombing experience. Lakeport State Park is located at 7605 Lakeshore Rd, Lakeport, MI 48059, USA.
When to Visit and Tips for Finding Beach Glass in Michigan
Michigan's Great Lake Beaches offer an abundance of beach glass, but timing and technique are key to maximizing your finds. While summer is the peak season for beach visits, the off-season presents the best opportunity for beach glass hunting. Visiting during spring, winter, and fall increases your chances of finding these treasures, especially after storms or when the snow melts.
Here are some tips to enhance your beach glass hunting experience:
Take your time: Beachcombing is a relaxing activity, so slow down and enjoy the process of searching for beach glass. Explore different sections of the beach and pay attention to the details.
Look for pebbles: Beach glass often gets caught in sections of pebbles instead of smooth, sandy surfaces. Focus your search in these areas for a higher chance of finding beach glass.
Visit during sunrise or sunset: The lower angle of the sun during these times can illuminate the glass, making it easier to spot. Take advantage of the golden hour for a more rewarding beach glass hunting experience.
Be patient: Finding beach glass requires patience and perseverance. Remember that each piece you find is a unique gem shaped by the Great Lakes' natural forces.
So, whether you're a Michigan resident or planning a visit to the Great Lake State, don't miss the opportunity to explore these magnificent beaches and uncover the hidden treasures of beach glass. Immerse yourself in the beauty of Michigan's Great Lakes, and let the motion of the waves reveal these polished gems. Start your beach glass adventure today and create lasting memories along the shores of Michigan.