VCC or a virtual credit card is an online generated payment method that can be used to complete various payments online. You can use a VCC to make a payment or to receive a payment to your bank account. There is no such difference between virtual credit cards and physical credit cards. Both can be used to make payments and to receive payments. But, sometimes virtual credit cards are better than a physical one. You can instantly create a VCC by using a service like Yandex. Unlike, a physical card it won't cost you a penny.
What is VCC?
A VCC is typically used for a one-time payment. However, the user can even reuse it like a physical credit card. Sometimes paying online can be risky. If you use a credit or debit card which you acquired directly from your bank, exposing the card details online could cause security issues. If you don't have two-factor authentication enabled for your credit card anyone with your card number and security code can use your card to make purchases. Especially if you are using your card to make a payment on an untrustworthy site the risk is really high.
But, you can use a VCC to make the payment without exposing the real details of your original credit card. Just prepare a VCC to add credit to the bank account and complete your payment without bothering.
Many trusted financial companies provide VCC services online. The most popular companies are,
Yandex money

American express Go

Payoneer

Netspend

Neteller

Walmart MoneyCard
What is Yandex
Yandex is the most popular internet service provider company in Russia. Like Google and Yahoo, it provides a series of services including money transfers, online banking, and VCC services. It is a trustworthy company with a very good repetition. Yandex is the fifth most popular search engine in the world while it is the most popular search engine with the Russian speaking communities.
Yandex.money is the largest electronic banking service provider company in Russia owned by the Yandex company. Yandex money is a combination of the Yandex search engine and the largest bank of Russia, the Sberbank.
The VCC service of Yandex money is widely used all around the world for purposes such as,
PayPal verification

Sending one-time payments

Online purchasing

Receiving payments online
Yandex VCC and PayPal
One of the most popular uses of Yandex VCC is to send and receive payments with PayPal. Since PayPal only allows one account per one credit card if you want to create many PayPal accounts it is not possible to do with physical cards.
But, with Yandex, you can create as many virtual credit cards as you want. It just requires a few seconds. The most interesting thing is Yandex VCC is totally free. You can set up one at any time without paying a penny. So, let's see how to create a VCC in Yandex.
Yandex money virtual card is probably the best VCC to use with PayPal. 
How to create a VCC in Yandex
Yandex is the easiest platform to create a VCC online. The verification process is comparatively easy and fast. But, you need a few things to configure your Yandex VCC.
A US mobile number verification method

An android or IOS phone for the verification process

Yandex wallet

 account

Yandex money account
In this article, you are going to learn the step by step process of creating a VCC in Yandex.
To create a Yandex wallet and Yandex money account you need to have a US phone number. But, if you are not from the United States still you can get a free US phone number for verification. Want to know how? Read this article to know how to verify a US phone number without any trouble. You can do it with either your computer or phone.
Since you are dealing with money, we strongly recommend you not to use a public phone number verification methods. 
To create a VCC in Yandex we recommend you use the text plus app.
Let's create a VCC virtual credit card in Yandex.
In the first step, you have to create a US phone number to verify your self. Read this article for know-how. Using the text plus app is easy. It only takes a few seconds for the setup. And it is totally free!
Step 2 – Creating a Yandex passport
First, visit Yandex.com. Yandex is a search engine which is similar to Google. In the top right corner of the Yandex site, you will see a login button. Click on it. Now you will see the following screen.
Click on the register button to create a new Yandex passport account. Now you will see the following form. You have to provide your full name, a password, a verification phone number to continue.
A user name and a password?
To create a Yandex account you need a unique username. When you provide your first and last name, Yandex automatically generates a set of usernames. You can either choose one of them or try your own username. If it is available you will see a green color tick. If your username is not available you have to try some other username.
Since you are creating this Yandex account for money transferring purpose always create a strong password. Otherwise, hackers may try to access your account using attack methods such as dictionary attacks. So, don't use a dictionary word as a password.
You need to provide a password with lowercase and uppercase letters and numbers to create your VCC in Yandex.
Step 3 – Verifying your phone number
Log into your text plus app and note down the unique US phone number given to you. Provide that number in the +1(the rest of the number) format to the mobile phone number section. Then click on continue.
Now you will receive a message on text plus app with the verification code. Enter the code and click on confirm to continue.
Now you will see the Yandex passport dashboard. Scroll down and find your Yandex email address. Copy it to the clipboard and you are done creating the Yandex passport. Now let's see to create the Yandex money account to create a VCC in Yandex.
Step 4- Create a Yandex Money account
Visit the site Yandex. money Now you will see the following screen.
Click on the create a wallet button to create your Yandex wallet.
First, you have to provide the US phone number which you used to create your Yandex email. Now again check your text plus app. Provide the verification code and click on the next button to continue.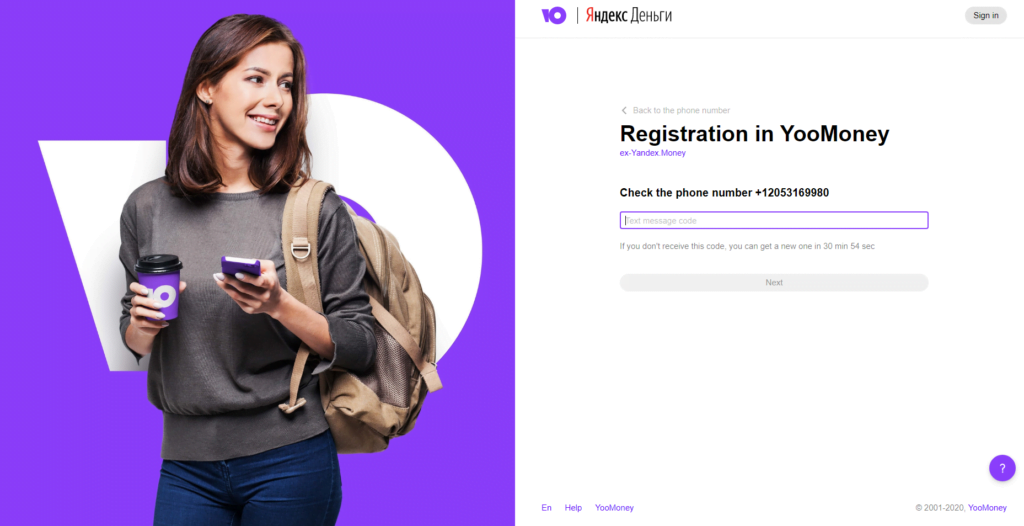 Now you need to create a strong password for your YooMoney wallet. Remember the password must contain at least 8 characters which include numbers and both uppercase and lowercase letters.
Note down the password in a safe place so you won't lose it in the future. Now, again enter the password and click on the done button. The done button only becomes available if both the passwords you provided match with each other.
Well done!! Now your YooMoney wallet is ready. You are just one step behind.
Step 5 – How to create VCC in Yandex wallet
Log in to your YooMoney account. At the top of the dashboard, you will see a button named "Bank cards". Click on it to create a VCC in Yandex. Now you will see the options you have. You can either order a physical credit card which will cost you some money. Or you can go for a Yandex money virtual card. Click on Yandex money virtual card to create a VCC in Yandex.
Click on the get a virtual card button. Now the Yandex site will ask the type of VCC you want. You have two options.
Free Visa virtual credit card

Free Mastercard virtual credit card
Both cards have the same facilities and pricing. However, the visa card won't allow you to use a multi-currency facility.
Select the card type and click the next button to continue.
The final step
Now again take your text plus app. You can find the card number on your wallet. But the expiration date and CVC are sent to your text plus app mobile number. 
Note down both expiration date and CVC in a safe place. You need the card number expiration date and CVC to make any payment online.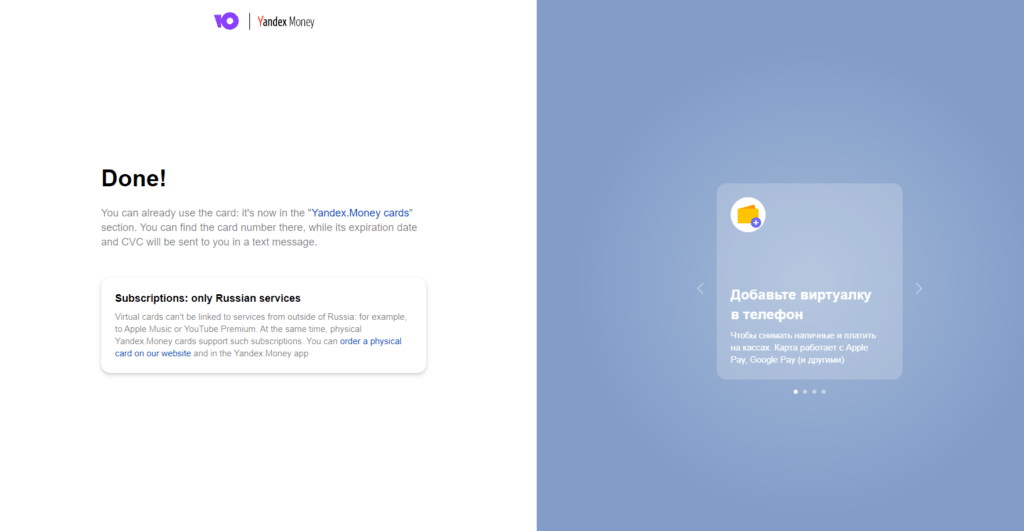 Why you need to create a Yandex virtual credit card?
Yandex allow payments on multiple platforms such as,
Apple pay

Google pay

Mi smartphone payment app

Samsung pay

PayPal

Many more to go
Benefits of having a VCC
A virtual credit card has more benefits compared to a physical credit card.
You can define the validity period of your VCC. 

You don't need to pay a service charge for the card. Just pay for the transactions

It secures your private information and actual bank details. You only lose the amount you top up to the VCC in case of hacking.

VCC is accepted globally. – You can pay at anyplace which accept visa or MasterCard

Have as many as cards you want.
Yandex money virtual card PayPal
If you need to create multiple PayPal accounts you can use a single YooMoney wallet to create as many virtual credit cards as you want. From one physical credit card, you can create many VCC and use your single physical card as a many.