Have you been considering moving your loved one into a nursing home?
If so, we understand that this decision can be an emotional one. You want to make sure you're making the best decision for their care, and that they'll be able to enjoy life comfortably and safely. A nursing home can meet those needs, providing healthcare, social interaction, mental stimulation, and more.
Today, we're sharing a few of the top reasons why this could be the right route for your loved one, and how to know when it's time to make this move.
1. Assistance With Daily Tasks
There are currently more than 1.4 million Americans living in nursing homes. These facilities are designed to help residents with daily living, including task management.
There are many different tasks that can become difficult with age. These can include:
Bathing
Dressing
Taking medicine
Running errands
When an elderly person lives at home, there's a degree of implied independence. They're expected to take care of these activities on their own, though they can become increasingly challenging. At a skilled nursing facility, there are professionals who can assist with these tasks and many more. Not only does this relieve stress from your loved one, but it can also keep them safe.
2. Physical and Mental Interaction
Living alone can be isolating, especially for seniors. These feelings can not only their mental health but their overall well-being. According to one study, around one-quarter (24%) of Americans aged 65 and older are considered to be socially isolated.
Nursing homes provide residents with regular opportunities to engage with others, move their bodies, and engage their minds. From gentle exercises to puzzles, board games, and social events, most facilities keep a full calendar of available activities. Though most programs are not mandatory, they can help seniors stay healthy as they age, as well as ward off feelings of isolation.
Most nursing homes will take the time to understand each resident's needs and will adjust their environment to provide just the right level of stimulation. Too many opportunities can be draining and distracting, while too few can lead to boredom and unrest.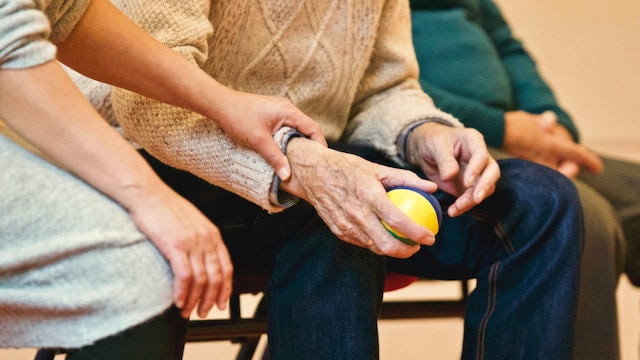 3. Housekeeping Support
Even the most independent seniors can appreciate the help of someone willing to do their housework and associated chores. From vacuuming and changing bed linens to washing dishes and doing laundry, there is an array of work required to keep a home tidy and clean.
At a nursing home, residents are not required to keep up with any of these duties. There are trained staff members who are responsible for maintaining the facility's cleanliness and sanitation. Instead of fretting about these tasks, residents are free to fill their time in other ways, such as enjoying social experiences and relaxing.
In our post on finding the right elderly home care,
4. Safe Living Environment
As your loved ones get older, you may worry about their ability to live safely at home. Even if their residence includes modifications to help them age in place, there is still the risk that an accident could occur.
At a nursing facility, they'll enjoy expert care to make sure they stay as safe as possible. These buildings are also equipped with features and equipment that make them thoroughly safe for seniors, with additions such as:
Rubber mats, grab bars, and shower seats in bathrooms
Carpeted floors
Assistive devices (e.g. walkers, canes)
Emergency call boxes
Functioning smoke detectors
Cameras and security systems
In addition, reputable nursing homes will also offer 24/7 supervision to keep residents safe and reduce their risk of injury.
5. Healthcare Services
Nursing homes can vary in the amount of healthcare they provide. Some are set up as independent living quarters while others offer around-the-clock nurse monitoring services. There are also facilities that offer varying levels of support depending on your loved one's needs. For instance, if you're looking for a nursing home in Bel Air, MD, Bel Air Assisted Living offers different options, including an Independent Living Program, Memory Care Facility, Rehabilitation Sevices, Hospice Care, and more. Though many residents still prefer to see their regular, off-site doctor for routine appointments, nursing staff are often available to assist as needed. This may include administering prescriptions, providing emergency medical treatment, or simply offering general health advice. Many facilities also offer various therapy programs to optimize residents' quality of life, such as:
Speech therapy
Occupational therapy
Physical therapy
There are also nursing homes that are specifically designed to support residents with certain health needs, such as Alzheimer's disease, Parkinson's disease, dementia, or cancer. These residents will require a specialized level of care and support that often exceeds what their relatives can provide at home.
For some seniors, at-home medical care may be the best option. In our recent post on finding the right elderly home care, we discuss ways to discern whether your loved one requires on-site healthcare or if a home aide can offer the support they need.
6. Meal Preparation
No matter how many people they're shopping and buying for, the task of meal preparation can be cumbersome and challenging for seniors. Keeping food on the table requires them to go to the grocery store, put their items away, and cook in the kitchen.
These steps can be physically draining, and potentially unsafe. If the individual suffers from any type of physical limitation, such as weakened eyesight or arthritis, chopping and slicing can be dangerous. There's also the cognition that cooking requires, which can be difficult for a senior who suffers from forgetfulness.
At a nursing facility, residents can happily relinquish this job. They'll enjoy three balanced meals a day, all prepared for them ahead of time. They'll also have access to meals and snacks throughout the day to support their nutrition. Many nursing homes hire dieticians to help plan and prepare their meals, so they can ensure each one provides all of the necessary vitamins and minerals.
7. Medication Management
Keeping up with daily medications can be a challenge for seniors, especially if they have to take certain ones on specific days. While there are pill organizers that can help them keep track of this task, it's still a time-consuming chore that leaves room for user error.
Nursing teams are trained in all aspects of medication management. They will keep track of each resident's daily schedule and can also assist with medication administration. This is one less thing for them to worry about, and it gives family members invaluable peace of mind.
Is a Nursing Home Right For Your Loved One?
As your loved ones get older, you want to make sure they're living comfortably and securely. A nursing home can offer them safety, proper nutrition, housekeeping, healthcare, and much more. Yet, these facilities might not be the best fit for all families.
Take the time to talk with your loved one, as well as their physician. Understand their requirements and limitations, and how a nursing facility could alleviate some of their daily stressors. Then, research and tour locations in your community before making a decision together.
Once you find a place that feels like the right fit, you can rest assured that they'll be in expert, caring hands, enjoying all of the benefits described above!