People tend to opt for personalized services in any sphere and IT isn't an exception. Thanks to customized software it isn't a big issue. Custom software building can provide effective and flexible long-term solutions for your company. At first sight the cost of building a customized software may seem scary, but it is something that will eventually pay off. This article will be devoted to the beneficial aspects of customized software development. If you want to keep abreast of the times and make your business entirely beneficial, just keep reading it till the end!
What does custom software development mean?
Customized software is the one which meets the specific requirements of a particular person or a company. The main difference from an off-the-shelf software (COTS) is that customized alternatives are aimed at targeting specific issues.
Microsoft Office is a common example of COTS software. On the other hand, a healthcare application for recording patients conditions and visits is an immaculate example of customized software. Another example of such a product may be an app built by a travel software development company. These ones also trace the client's preferences and are considered to be more personalized than traditional solutions. You should know that custom software may also be called a bespoke one. The overall principles of bespoke and any other software building are almost the same. Despite applying similar methods, customized solutions provide sophisticated and unique functions when it comes to app management and modernization. Want to get a deeper understanding of bespoke software development? Find more info here.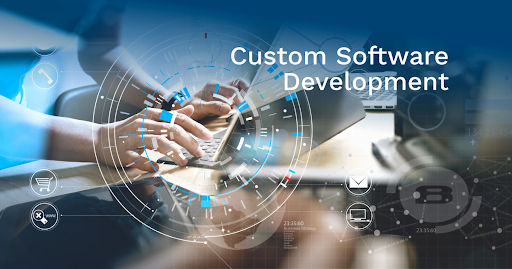 The advantages of opting for building a customized software
While reading the definition of a customized software you may wonder why should a person opt for it? Our team has prepared an inventory of advantages which may help you estimate all the facts and make a well-informed choice. Below you will find 5 most persuasive reasons to allocate money in building a bespoke software for your business.
1. Tailored Solutions
First and foremost, the main advantage of developing a bespoke software is that it is capable of satisfying the needs of a particular individual or a company. Since every business has a number of unique peculiarities, a traditional software may not be enough. However, a lot of business owners opt for off-the-shelf software solutions just to realise that it was just a rash decision. Tailored products will give you a space to grow and develop.
2. Greater Scalability
If you are serious about running a successful business, you should think of further scalability opportunities. In this aspect an off-the-shelf software option may turn out to be a big issue. Firstly, you may be required to pay a fortune to get a license. Secondly, you are likely to face the moment when a traditional software won't be able to support your business.
Off-the-shelf options are more suitable for startups and small companies. However, it is not a good idea to limit your potential in advance. If you can afford to invest money in building a customized software, it will definitely pay off later.
3. Software Integration
Another great advantage of developing a custom software is that it can be easily integrated with another existing one to enhance business processes. On the other hand, integration with a COTS solution may result in errors and productivity losses.
4. Hardware Costs
At first sight building a customized software may seem much more expensive than an off-the-shelf one. However, not everyone knows that to make a traditional software run efficiently you must purchase some additional hardware. It can result in an unexpectedly high final cost.
Customized software doesn't require you to adjust to the existing product. On the contrary, you receive a tool that meets all your requirements without charging any additional costs.
5. Increased Reliability
If you opt for an off-the-shelf software, you must understand that you will be fully dependent on a product provider. What does it mean? You won't be able to decide on requirements, conditions, cost and the future development of the business.
In case of a software development company's bankruptcy the product will no longer update its services and functions. You will be forced to look for another hospitality software development company to cooperate with in a limited period of time.
In this aspect customized software seems to be entirely beneficial. You can use it as long as you need and the way you like. Well, there are a few costs that a business owner must pay attention to, but anyway there are far fewer reasons to be worried.
Final thoughts
All in all, the development of customized software is a great alternative for many companies. The benefits are manifold when compared with off-the-shelf software. However, you are the only person who is responsible for such decisions. We do hope that this article will help you to make a well-informed choice.